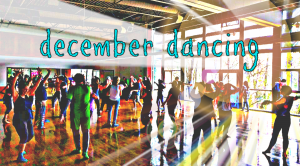 Dancers one and all!
We are so excited to say, we're open for the morning–same time, same place–on December 31st. What a fabulous way to kick off the last day of the year 2016 .
If you haven't been to Free Form Dance Dance before, perhaps today is the perfect day to start. We always cobble together an amazing set list of music from all over the world, and you'll be sure to hear old favorites from many eras (1940s through present) all interspersed with lively world music, melodic, gorgeous, creative.
Plus, we have toys like jump ropes, balls, shakers and drums. Yoga mats, yoga blocks and chairs are all available for anyone needing rest and pause during the music. There is no requirement to move, no choreography, no instruction during the actual dance. Only to be yourself.
Join us afterwards if you like at Masala Indian food restaurant for the lunch buffet. It's one block away to the north–walk over with us. Yummy food and fun friends. Everyone is welcome!
See you on the dance floor–can't wait for this amazing set list of fun songs with amazing artists from all over the world, some honoring important musicians we loved. We'll have a Bollywood song, as always (to inspire our pallets for Indian food later) and music from Mexico, South Africa and Turkey…plus much more. 80 minutes of music.
Every Body welcome.